The average North American creates more than two pounds of garbage per day – and that is on a good day and for personal use. That might be what is made in a day but there is plenty more where that came from scattered around your home or business. If you are looking for a large-scale clean out but don't have the necessary equipment, our bin rental service is the answer.
Commercial properties collect trash at a quick but unexpected pace. Paperwork adds up, containers become emptied, packing materials get left behind, no matter what it is, it adds up quickly. The same goes for your home. Trash can pile up before your city-organized pick up is due, and then you are stuck with a mountain of unwanted trash. By choosing a bin rental over standard pick-up, you can have your property cleaned out in one swoop.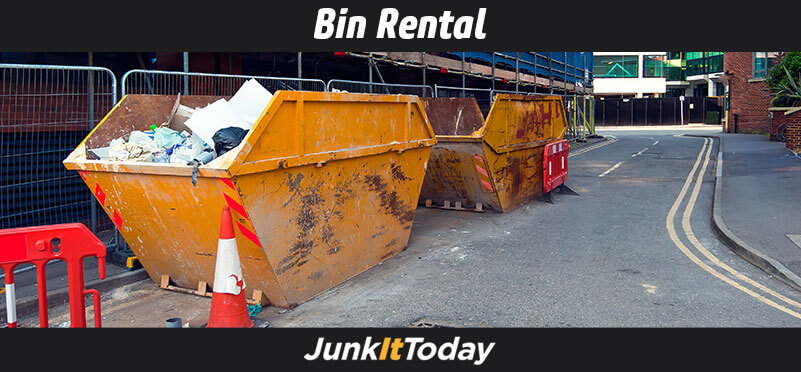 Don't Bother With Do-It-Yourself
For any type of property owner, clean outs are a necessary evil. It might be your own trash or garbage left behind by customers or former tenants. In either case, packing it up and piling it up is only the first step. If you are dealing with a heavy clear out or clean up, getting rid of  leftovers can be tricky. A property-wide clean out leaves dozens of bags of trash which need to be taken away, in several trips. Unlike coffee shops, there are not landfills available on every corner. Just getting to these dumps can take a long time and cost you money on gas, dump fees and the inevitable car-wash that is needed afterward. Wouldn't it be nice to have an option that allows you to bag that trash and be done with it? That is exactly what a bin rental does!
Bin Rental: A Convenient Solution
The junk removal specialists at Junk It will come to your commercial or residential property with one bin. Once placed. this rented bin becomes a catch-all for all of your unwanted material. These bins come in several sizes, all designed to help you get through your junk or trash removal. No matter the size of the job, we have a bin for you. Once the bin is full or your property is empty, you simply call our specialists and have the bin removed. What could be easier than that?
With timely drop-off and pick-ups only a phone call away, there has never been a simpler way to declutter your space. Ditch the stress and your junk with our bin rental service.
Call today to book an appointment with one of our removal specialists for your bin rental.