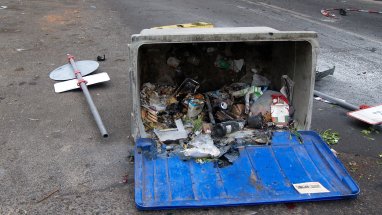 24 May 2016
Waste Disposal Companies Save You Time
WHY SHOULD YOU HIRE A WASTE DISPOSAL COMPANY?
There is no better way to dispose of waste than having a dependable company that specialized in waste collection do it for you. Waste that is not disposed of properly is a huge cause of environmental degradation in the world today. Improper waste disposal because of the poor methods or ignorance is a huge problem. When waste is not collected it causes all sorts of headaches for homeowners. Having a reputable and organised waste collection and disposal firm, who work hard to be environmentally friendly, can take away some of those headaches! Enter Junk It Today.
Why should you hire Junk It Today for waste disposal?
Our company provides junk removal, waste collection and waste disposal services among others within the community. Whether it's general bags of garbage or old appliances and electronics, Junk It Today will haul it all away.
Our reputable waste removal company has the right trucks to get the job done. We've got a can-do attitude and we're thorough. We pay attention to detail and always leave the site better than when we arrived. Of course we do, we take away all the crap!
Junk It Today provides a well laid out framework of how we will carry out the waste removal job for you. If you send us a picture before we get the job started, we can offer you a quote for the price. We guarantee that it will be quite reasonable, but also very competitive.
Once we have a scheduled time to come by and do your waste collection, you won't have to worry about the nasty pile in your space anymore. If need be, not only will we haul the waste away, but we can do a site or yard clean up for you as well. We offer yard waste removal, as well as clean-out services. Be they foreclosures or estate clean-outs. We also offer scrap metal and drywall removal. With concerns over asbestos in older homes, it's best to leave this kind of work to the professionals.
Conclusion
Save yourself the time and effort. Send us a picture today of your waste disposal job and let Junk It Today take your crap away. We take crap from anyone.
We service Langley, Maple Ridge, Coquitlam, Port Moody, Pitt Meadows, Mission, Port Coquitlam and everywhere in between!