Any property, whether it is a home or a business is not functional without appliances. Appliances both large and small are tools of convenience but they come at a price! There are plenty of companies that are more than willing to deliver your machines once you've paid for them, but removal is another story. If you are ready to get rid of that old refrigerator, dishwasher, dryer or deep freeze, call Junk It for your appliance removal.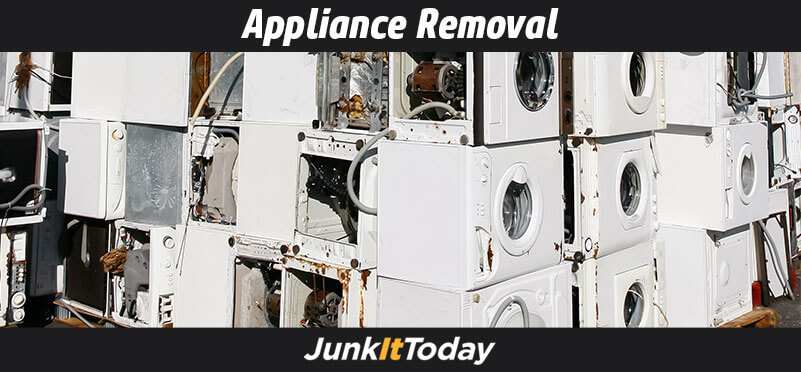 Why Should You Call The Pros?
In the same way that appliances are designed to make your life easier, so are our services. The biggest problem (and the most obvious one) with getting rid of an appliance is that they are big and bulky. Translation? They are heavy and hard to move. Unless you have superhuman strength, you won't be able to move something as large as an over, all on your own. More often than not, it requires ha heavy duty truck to transport these machines. If you do not have this type of physical strength or vehicle, it forces you to call in favours from friends or rent moving trucks. Save yourself the trouble of throwing out your back and bank account by calling Junk It for your appliance removal.
Instead of throwing out your back trying to drag appliances around your property, let the pros do it for you. When you call Junk It Today for your appliance removal, we do all the heavy lifting. Our removal experts arrive on site with all the proper safety equipment and tools to carry those appliances away with no effort from you.
Appliance Removal: Proper Disposal
There are proper and improper ways to get rid of just about anything around your space. Chances are, that you are going to want to the easiest one. In the case of appliances, taking it to the dump might seem like the best method but it rarely is. B.C has always been a very eco-friendly province and there is no better examples than in how we dispose of things. In the junk removal world, recycling is king and our specialists know all the tricks to getting it done right.
Appliances around your property are made up of artificially made material, meaning that they are not able to biodegrade. Refrigerators and air conditioners are some of the biggest culprits here. These appliances have insulations inside that can be dangerous when left to sit outdoors. Television removal can also be tricky due to all of the chemicals inside. Certain types of appliances need special treatment that only certain locations are willing to include. If you pack up your appliances and haul them to the dump or landfill, there is no guarantee that you will be allowed to leave it behind.
One call to Junk It for your appliance removal service does it all. Your broken or outdated appliances are taken away and disposed of responsibly. That sounds like a win-win to us. Choose fast, local and reliable service and save yourself the inconvenience. Call to book an appointment today.